Film Screenings
Evening Screenings
Wednesday Evening (7:00p.m.)
Mateo's Story
United States, Documentary, 23 minutes
Directed by Malona P. Badelt
"La Historia de Mateo" follows a family from Central America fleeing deadly gang violence with their two small children. When legally seeking asylum, one-year-old Mateo is separated from his father by U.S. immigration. Suddenly a journey to safety turns into a journey of trauma, fear and irreparable damage.
Voice For the Voiceless
Russian Federation, Documentary, 33 minutes
Directed by Anna Barsukova
After learning about her diagnosis Marina begins to search for answers to her questions. Fearing disclosure and condemnation, she chooses to trust her thoughts to her diary. But nothing stays hidden for long…
Undue Burdens
United States, Documentary, 32 minutes
Directed by Andrea Raby
Undue Burdens follows Midwest Access Coalition, as they organize to provide people with funding for travel, hotel stays, childcare and food, and help women access abortions throughout the Midwest and beyond. Looking back at Jane (The Chicago Abortion Counseling Service, formed in 1969), we can see how powerful women can be when they band together to make something happen. Undue Burdens compares these two organizations – one that existed out of necessity because of the illegality of abortion, and the other that exists out of necessity because of the failure of our legislature.
Hope
United States, Documentary, 5 minutes
Directed by Kathleen Duke
"Hope" tells the story of DeeDee, a community leader, who explains how the Integrated Tribal Development Program (ITDP) brought prosperity to his village.
L'Eau Est La Vie (Water is Life): From Standing Rock to the Swamp
United States, Documentary, 24 minutes
Directed by Sam Vinal
On the banks of Louisiana, fierce Indigenous women are ready to fight—to stop the corporate blacksnake and preserve their way of life. They are risking everything to protect Mother Earth from the predatory fossil fuel companies that seek to poison it.
I am Water
United States, Experimental, 2 minutes
Directed by Jim Hall
I am Water is an absurd allegorical FilmPoem that's hopefully easy to read between the lines. Water covers about 70 percent of the earth. I am made up of about that same amount of water. I can live only a few days without water. You can only live a few days without water. Political ignorance and corporate greed help fuel the current world water crisis. If we are to save the planet, it begins with you and I...one drop at a time.
A Living Future
United States, Documentary, 7 minutes
Directed by Natalie Sipes
Un Futuro Vivo dives into the struggle to obtain drinkable water in the rural areas of the Guanacaste Province in Costa Rica. With the help & resources of La Liga Comunal del Agua, hardship is lessened, and health is increased. Watch to see the impact of their efforts!
Thursday Evening (7:00p.m.)
Gaza: Still Alive
United Kingdom, Documentary, 54 minutes
Directed by Harry Fear
A documentary revealing the mental health catastrophe among Palestinians in the impoverished Gaza Strip, amid ongoing war trauma and after a decade of isolation from the world. This is the story of Gazans' immense invisible suffering, through the eyes of ordinary civilians and the psychologists tasked with supporting them against all odds.
Jumping the Line
United States, Documentary, 38 minutes
Directed by Michael Lentz
"Jumping the Line" tells the story of a private Christian high school producing The Wiz as their spring musical. It is a lesson in diversity and an exercise in empathy as the students/staff wrestle with how to tell this traditionally all-black story with a diverse cast of students. It is an exploration in the value of listening to the stories of non-majority students as the drama club seeks to specifically invite students of color to participate in the theater program in an intentional way.
Rainshadow
United States, Documentary, 36 minutes
Directed by Kari L Barber
Rainshadow, a high school for at-risk students, is threatened with being taken over by the state for low test scores, but the school's art teacher and principal have one last shot to save the school that has saved so many kids.
Thursday Morning (11:00am)
What If Black Boys Were Butterflies?
United States, Experimental, 3 minutes
Directed by DaeQuan Collier
While other boys can enjoy a childhood of freedoms, for many reasons, Black boyhood is a brief, complicated existence. What If Black Boys Were Butterflies, is a non-linear experimental short film displaying what Black Boyhood is and what it ultimately could be.
Your Hair is Cute
Netherlands, Experimental, 3 minutes
Directed by Cintia Taylor
Your Hair is Cute is a poetic monologue about the subtleties of everyday racism.
True Administration of Justice
United States, Documentary, 9 minutes
Directed by Esme Fox
Told through the lens of a former inmate, True Administration of Justice is an exploration of the American criminal justice system and its inherent racism.
Tank Man
United States, Narrative, 14 minutes
Directed by Robert Anthony Peters
Tank Man is the story of the iconic gentleman who stood in front of and stopped a line of tanks after the Tienanmen Square massacre of June 4, 1989. All that is known of this man are the images that were recorded of his acts. This film is a speculation of what he went through the day he took his courageous steps 30 years ago.
For
Russian Federation, Narrative, 2 minutes
Directed by Andrey Buyanov
Caring for the environment is the key to a bright future!
The Task
Netherlands, Narrative, 7 minutes
Directed by Sander Houwen
In a God-fearing village, local goldsmith Alain delivers wedding rings to gay couple Sam and Daan.
Hear for You
United Kingdom, Narrative, 5 minutes
Directed by Lorenzo Calder-Smith
Samantha is having hearing aid difficulties and becomes increasingly concerned when she realises a man is following her.
Taking Root
United States, Documentary, 9 minutes
Directed by Jonah Elias
In Danang, it's socially accepted to farm crops utilising chemicals that are harmful to the environment and to the health of the farmers. In a small farming area outside the city Mr. Loi, a local farmer, discovers the techniques of chemical-free farming, and motivated by his desire to keep the environment clean and provide the locals with fresh and healthy produce, he takes action to change the perception of clean farming in his farming co-op. "Taking Root" is a short documentary film that explores Mr. Loi's journey to educate himself and encourage others to learn organic farming techniques, to ultimately spread clean farming throughout the city and Vietnam.
I Was That Kid: Breaking The Cycle of Juvenile Crime
United States, Documentary, 6 minutes
Directed by Manjula Varghese
United Playaz program coordinators David Monroe, Krystal Morales and Will Ramirez reflect on their upbringing and the choices they made as youth, which eventually lead them to working in youth violence prevention.
Silent Child
United States, Experimental, 3 minutes
Directed by Mario Lopez
A snippet of a quiet boy's life moments before he plays with the wrong toy.
Thursday Afternoon (12:30pm)
On the Border
Mexico, Narrative, 6 minutes
Directed by Arturo M. Merelo
In a setting surrounded by constant news of violence, catastrophes and organized crime, good will and fear oppose each other when a woman watches her neighbours suspecting they are into some kind of trouble.
The Butterfly Effect
United States, Documentary, 11 minutes
Directed by Kate Boylan-Ascione
As deforestation and climate change disturb Belize's critical rainy season, one organization works to educate children both locally and abroad about the importance of preserving the rainforest, using an unexpected icon: butterflies!
Hope
Republic of Korea, Documentary, 8 minutes
Directed by Neil P George
Hope is based on a true story about Ali, a young Yemeni man who is searching his way through life after leaving Yemen due to the civil war and trying to find his path, his hopes, and his dreams. After leaving Yemen he found himself lost, with nowhere to call home and after several years landed on Jeju, a small island off the coast of South Korea. He only has one real hope, to help others, especially the people of his home country. But, unable to return, he now struggles to find these things we often take for granted, especially, a place to call home. Once again he must start his journey looking towards a brighter future.
Dear Johnny Reb: An argument for the removal of Confederate memorials.
United States, Documentary/Narrative, 7 minutes
Directed by Philip H Scarborough Jr.
This film is an expression of a thought and a desire by Mississippi filmmaker Philip Scarborough. He, along with fellow Mississippians (NOT ACTORS, real, native Mississippians) , have crafted a letter to the Confederate "sentinels" looming over courthouse lawns across their state. In a heartfelt appeal to these manifestations of his Confederate ancestors' racism, Scarborough explains why it's time for them to stand down and go home. As more and more Mississippians feel these symbols don't represent them or the diversity of their home state, and as the confederate flag has been recently tied to domestic terrorism, this film is an argument for the removal of confederate monuments in Mississippi.
Lockdown
United States, Narrative, 6 minutes
Directed by Patrick Heaphy
Robyn Delaney, 9th grade English teacher at Blue Hill High, is gathering up the courage to ask out the new architect professor, John Barickle, when unexpected chaos ensues. The two coincidentally take refuge in the women's bathroom where their relationship, and their lives hang in the balance.
Flag Country
United States, Experimental, 5 minutes
Directed by Pamela Falkenberg
Outlier Moving Pictures' new poetry film is based on Dave Bonta's haibun poem, "Flag Country," which tells a story about an unplanned stop during a road trip, arrested to see an enormous flag at a car lot in Orbisonia, PA. Our mesmerizing views of the flag furling and unfurling in the wind, along with the "skywritten" text, induce the hypnotic state described in the poem, accompanied by a soundscape that conducts a whirlwind tour of American aspirations and moments of civil dissent, revealing the challenging gaps that continue to exist between our ideals and our actual achievements.
A Woman's Place is in the House
United States, Music Video, 8 minutes
Directed by Judith Lynn Stillman
Indeed, a woman's place is in the house... the House of Representatives, that is! This uplifting, upbeat music video celebrates womenpower - and the 36 new Congresswomen in the United States House of Representatives, with innovative music and intricate rap-style lyrics. This sprited film, with diverse artists inhabiting toe-tapping rhythms, underscores the positive impact of women in politics, and is fortuitously timed as we approach the 2020 centennial of women's right to vote!
Emma
Australia, Narrative, 6 minutes
Directed by Kevin Spink
Emma is a regular human that is faced with daily modern obstacles; yet underneath her smile a secret hides. A story with no words.
Preamble
United States, Experimental, 3 minutes
Directed by Alan J. Chriest
An average American voices his concerns for the gridlock of Congress and utilizes his right to speak up and offer answers.
The Reason
Ukraine, Narrative, 2 minutes
Directed by Anton Shtuka
Every day the hero accepts the formidable challenge of destiny on the way to his dream. He has only one reason to stop fighting.
Friday Afternoon (11:30am)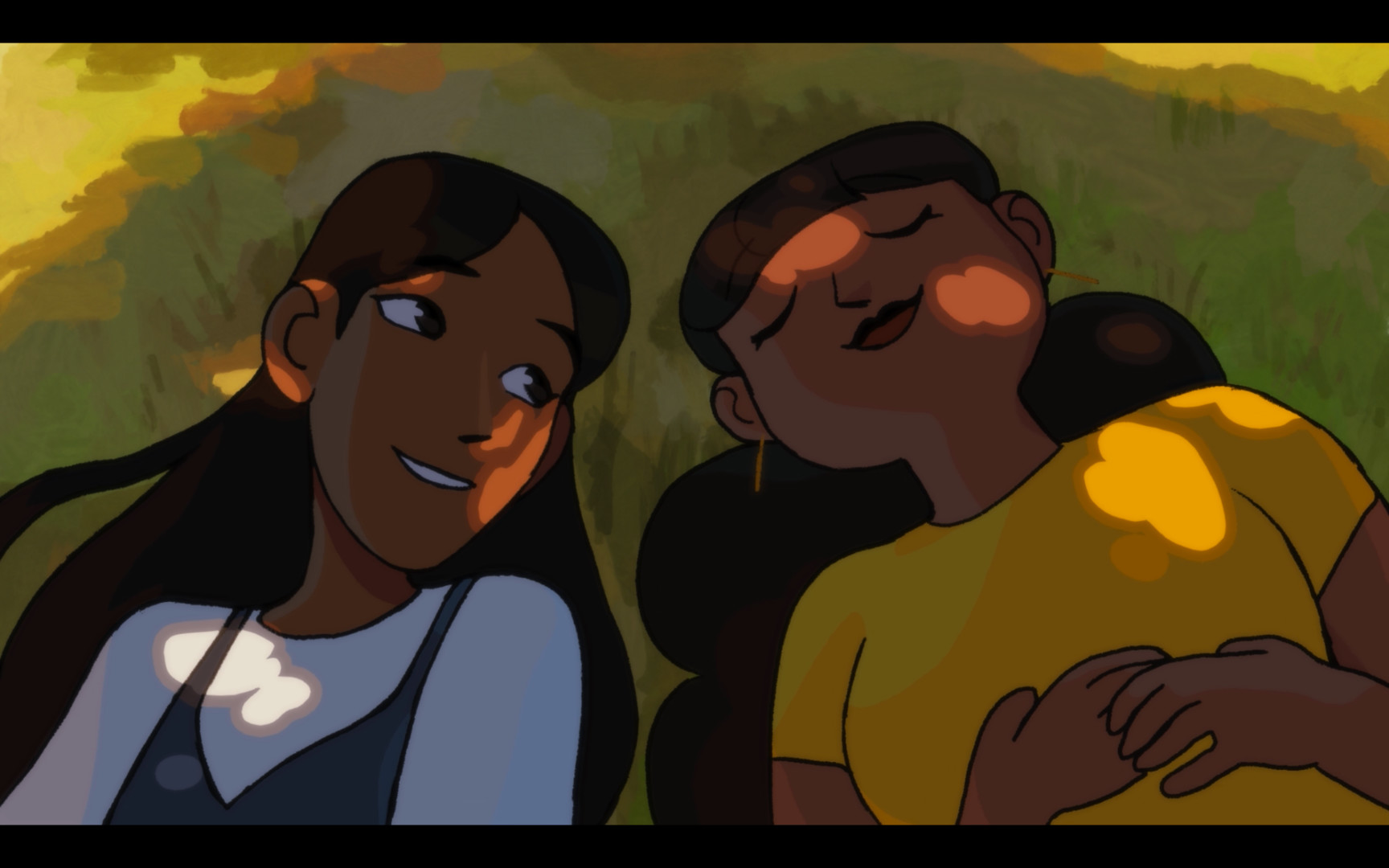 Passage
India, Animation, 5 minutes
Directed by Asavari Kumar
Finding herself in a state of limbo, an Indian woman revisits her immigration journey and voyages through a tempestuous emotional landscape of memory, identity, belonging and the illusion of the American Dream.
Camina conmigo (Walk beside me)
Spain, Narrative, 3 minutes
Made by the students of 8 and 9 years old of the Public School "C.E.I.P. Serrería" of Valencia (Spain), on the subject of coeducation, equality and gender identity.
When we are born, we are labeled and separated. But if we walk together, it will be easier to choose our own path. Desde que nacemos, nos etiquetan y nos separan. Pero si nos juntamos y nos apoyamos, será más fácil elegir nuestro propio camino.
Stronger than Steel
United States, Documentary, 6 minutes
Directed by Jacob Pincus
Three days after the Tree of Life synagogue shooting, thousands of people in Pittsburgh came together to protest the hate and violence in the country. "Stronger than Steel" explores that even after tragedy, there is hope in this divided nation.
Sin Titulo
Mexico, Animation, 6 minutes
Directed by Jose Silva
She works in a maquiladora in a northern Mexican border town. She remembers her papa's stories and her mama's hopes for a better life, all while wandering through a dream from which she cannot awake. Ella trabaja en una maquiladora en un pueblo en la frontera, al norte de Mexico; recuerda las historias de su padre y las esperanzas de una vida mejor de su madre mientras vaga por un sueño del cual no puede despertar.
Pulpe Fiction
France, Animation, 1 minute
Directed by Janek Tarkowski
Which luscious candidate will pass the casting?
Bye Luna
United States, Narrative, 3 minutes
Directed by Alexis Duran
Michael is trying to teach his seven-year-old daughter, Luna, their native tongue. As Luna resists to speak in Spanish, an abrupt hostile confrontation presents itself to both Michael and Luna. Michael's experience that evening will give him an unexpected reality of fatherhood.
...And Then She Kissed Me!!
United States, Animation, 2 minutes
Directed by Alexia Khodanian
A love story between two girls who find happiness in each other. Inspired by the re-interpretation of a classic rock song, "And Then He Kissed Me."
Illegal
United States, Narrative, 7 minutes
Directed by Jesus Nebot
A traffic stop due to speeding takes a turn for the worse landing a mother and her 6 year old daughter in jail.
Caring
Russian Federation, Documentary, 9 minutes
Directed by Sergey Filatov
Beacon
United States, Animation, 3 minutes
Directed by Claire Pullen

The Mother of Exiles stands as a symbol of hope, and a reminder of the notion that all should be welcome in the American dream.